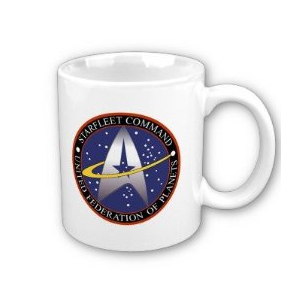 With "Into Darkness" in theaters right now, I can't get enough Star Trek stuff posted!. This mug has the logo of starfleet on it. Also it comes with a little bonus! Read the details for more.
Star Trek Starfleet Logo
From Seller:
Product Description
Novelty Mug and Pinback Button/Pin Set. Makes a great gift to that special someone you love, or just to treat yourself with. Great for a Birthday gift, or gift for any Holidays, or "Just Thinking of You," Office Gift, or "Just Want to Say Sorry Gift." The Mug is Great for Coffee drinkers, Hot Coco drinkers, and Tea drinkers. It can also be uses for Cold Beverages, Ice Coffee, Juice, or whatever kind of cold drinks you may enjoy with It. Can be use as a Pen and Pencil Holder, or can be uses for Loose Money Coins holder. And it includes two 1″ Inch Pinback Buttons, which make the gift even more special. The Image is on white with black rim and handle sublimation mug- 11 oz size. Come with a plan white "Gift Box," ready to wrap, or have in gift bag. Ship From California Priority Mail Shipping With Conformation Tracking (2-4 Days). Dishwasher safe using bleach free detergent. Microwave Safe. Priority Mail (2-4 Days).
Star Trek Starfleet Logo Kirk Spook Art Inspired Promo Coffee, Tea, Hot Coco Mug. Includes Pinback Buttons And Gift Box.